Hoşgeldiniz! Welcome! 
This blog post isn't the usual recipe post but instead it's a guide to Istanbul & Cappadocia! I've shared everything I've observed and learned …and I also have a discount code that you can use if you book accommodations or activities through the travel agency, Meza Travel, that my group and I booked with!
I've focused this post mostly on activities, accommodations and restaurants to visit. Of course we all know that you visit Istanbul you must see the most famous sites: Hagia Sophia, Blue Mosque, Dolmabahçe Palace, Topkapı Palace, Grand Bazaar, Basilica Cistern, Galata Tower, Princes' Islands, Ortaköy Mosque…just to name a few!
Alright…here we go!
---
Booking Hotels, Private Drivers, &  More: Meza Travel Co. 
Our group was connected to the Meza Travel tourism company upon our return from Cappadocia. This company helps you reserve daily private drivers, hotels, tables at restaurants, day trips, translated tours and more.
One of their agents/drivers, Ömer, was assigned to our group. Communicating with Ömer and the Meza team was very easy. Everyone we worked with happened to speak some English and/or Arabic and when needed, Google Translate was very helpful!
When we had questions about where to go and what to do, Meza Travel always had suggestions. When booking through Meza Travel, you are not only supporting a local Turkish business, but you're also often getting a better rate than what you'll find online. For example, our stay at CVK Bosphorus Hotel was 80 Euros LESS per night over what was available on Expedia or Booking.com.
And in case you were wondering…This is not a paid ad. This is not a sponsored blog post. Truly, I was so thrilled with the service that my group received and want to share this information with you as well.
If you have any questions or would like to reserve or book any activities/hotels, feel free to contact Meza Travel via WhatsApp at +905061804019 and speak to Ömer. Mention the code "APRICOTS " for a special discount on your reservation(s). 
Here are a few activities/accommodations that we booked with our agent Ömer's help at Meza Travel:
Private Luxury Vehicle + Driver in Istanbul (Approximately $120-150/day) 

A private car makes travel in Istanbul SO much easier…I cannot stress this enough. On days when we knew that were were going to visit a number of spots all over the city, this was the best option for our large group of 6-7. The private driver assigned to you will drop you off at every spot and will be there to pick you up as soon as you're ready to move to the next location. While taxi/uber and the metro are all great means of transportation, there were often days when traffic was so bad that taxi drivers rejected to pick us up and ubers kept getting canceled. I can't tell you how many times we waited for a taxi for 30+ minutes. Below is a photo example of the typical private van …you see these ALL over Istanbul. 

Hotel Bookings

Again, we saved SO much money booking hotels through Meza – 80 euros/night. Our group simply let them know my desired check in/check out dates and they supplied us with a list of options and pricing. Once we officially selected the hotel and received confirmation, we simply made way to their main office and paid for our stay. 

Airport Arrivals Pick up & Departure Drop Off 

This is all in your own private vehicle. Ömer was there as soon as our group landed and when it came time to depart Istanbul, he had us at the airport on time and helped us with our luggage. Heads up! The Istanbul Airport is about 45 minutes to 1 hour away from the main city.

Private Bosphorus Yacht Cruise + Turkish Breakfast

This was such a special activity and was truly one of the highlights of our trip. Whether you've got a small group or a larger one, it's definitely worth reserving this.

Turkish Delight/Spice Market Shopping (Eyup Sultan) 

This was a perfect spot to pick up freshly made Turkish delights and spices (the best gifts to take home!). We had an added "Meza Travel" discount when we shopped here.

Restaurant Reservations

We never had trouble reserving tables at popular restaurants. We simply messaged Ömer and he would secure a table for us. Often times, we had the best table in the house with stunning views.

Private Tour Guide for Hagia Sophia, Topkapi Palace & Blue Mosque

This definitely beats using the audio guides. You will be assigned a tour guide based on your desired language. Our guide spoke Arabic and English and was incredibly thorough in his descriptions and explanations.

Full Day Trip + private van to Sapanca/Masukiye

This was about a 2 hour drive away from Istanbul and takes you up into lush green hills. We dedicated an entire day to this trip and loved it. It was a nice break away from the busy city of Istanbul.
---
Hotels: Marriott Şişli and CVK Bosphorus 
Istanbul Marriott Şişli
This was the first hotel we selected because of its proximity to the the metro station and overall good reviews. Ultimately, we enjoyed our stay here but we did have a few issues. For example, the rooms in this hotel weren't spectacular. Our initial room unfortunately had the lingering smell of smoke…the carpets were heavily stained…and our bathroom door didn't close. When we brought up these issues to the staff at the reservations desk, they immediately took note and worked with us to help find solutions. At one point, we finally changed rooms and were much happier. What made this hotel great and made our stay enjoyable was the staff at this hotel. They were all so accommodating and pleasant.
This hotel also had an open and comfortable lobby. In the lobby, they had a wood-fired oven to make pizzas and traditional Turkish Pide. They also had a Starbucks in the lobby! 
CVK Bosphorus 
Many of my relatives have stayed at and recommended this hotel prior to my stay here. When Meza Travel offered this hotel at a discounted rate significantly cheaper than what was available (again…80 euros less per night compared to what was on booking.com/expedia!), we immediately reserved it.
My overall experience at this hotel was also great. The room I was in was incredibly spacious and the bed was comfortable. The bathroom was also large. Most importantly, the space felt very clean. This hotel offers rooms with gorgeous views of the Bosphorus. If you don't have a room with a view, no worries…you can just head over to a bridge that they have on-site and you'll have lots of photo opportunities.
I suggest you reserve your room with the hotel's breakfast. It was quite a large buffet and they had plenty of staff to serve the guests. And if you're into room service, you'll enjoy their menu as well.
The location of CVK Bosphorus is quite close to the famous Taksim Square and Istiklal Street. If it's a nice day you can also walk to Nişantaşı in about 20-30 minutes. I loved that this hotel was just a few minute walk from the very famous Baklava shop, Hafiz Mustafa. Be sure to pick up fresh baked baklava before you head to the airport and depart Istanbul.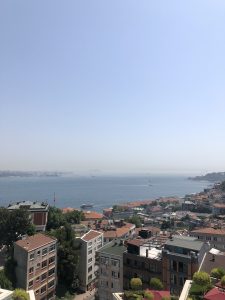 ---
AirBnB
We had the opportunity to stay at this AirBnB and had an overall positive experience. As a group of six, we were definitely looking for a large space with multiple rooms and bathrooms.
Location, Location, Location! This flat was located in Beyoğlu and we were no more than a 5 minute walk to Taksim and Istiklal street. You're also a short and downhill walk away from Dolmabahçe Palace. On a nice day you can also comfortably walk to Nişantaşı. 
The building is historical and in the flat you see original, stunning ceramic tiles. The flat is also very spacious and clean. There was thankfully an elevator to get us up and down and there was also a kind doorman who lived on the first floor (we made sure to tip him when we checked out of the apartment!).  The view from the balcony was absolutely STUNNING. Again, it was an overall positive experience but we did notice a few things that we wish were different…
The flat is quite large and while they did advertise Wi-Fi, there was only working Wi-Fi in the living room area. There were two AC units in the flat. One was located in the hallway and one in the dining room. We were traveling during the hottest days of the summer  (we're talking 95F or more + 75% humidity) and unfortunately felt that the AC wasn't quite strong enough to cover the whole flat. However, if you're traveling during cooler days the AC shouldn't be a problem!
---
General Istanbul Travel Tips
Make sure you've got internet on your phone. We used our phones for navigating and communication (shout out to WhatsApp!) constantly. If you're staying for more than a few weeks it may be worth
Always anticipate that there's going to be traffic. SO much Traffic!
When shopping in the malls, be sure to have your passport ready at the cashiers. They will give you Tax Refund paperwork that you can submit in the airport when departing from Istanbul.
Google Translate will be your best friend. Download the app! It's got a great voice recording feature…we often used it when communicating with drivers and hotel staff.
Tipping…you are not required to tip. But our friends suggested that if you truly loved the service…it's nice to tip your servers and waiters.
Your Taxi Driver must always use the meter. They start their meters at around 5.50 Turkish liras. If a taxi driver tries to give you a "quote" before you get into the car, wait for another taxi because you don't want to pay extra for your ride.
Ubers are all yellow cabs..no private cars here! Again, make sure they use their meters. And be patient…I can't tell you how many times Uber drivers would cancel on our group and we had to resubmit requests.
---
As of July 2021, before flying into Turkey a PCR test needed to be taken within 72 hours before departure. In addition to that, we needed to register your information here: https://register.health.gov.tr/ — The QR code that you are given after registering is needed when arrive at Istanbul Airport.
Heads up! One of my relatives was randomly selected to complete a PCR test in the Istanbul airport.
When entering indoor spaces such as hotels, restaurants, shopping malls, taxis, public transportation and more…masks were required. In addition to this, we all registered our personal information and were given a QR Scan code ("HES" Code) that was needed to enter all malls, most hotels, and other high traffic enclosed spaces. I noticed that most Taxi/Uber drivers took masks very seriously and wore them while they had passengers in their vehicles.
In hotels and restaurants, all staff wore masks at all times.
Taking a PCR test in Istanbul before departure is easy to do. Most hotels offer in-house appointments for their guests. We were charged around 200 Turkish Liras (approximately $20) per PCR test at our hotel.
---
Restaurants & Cafes

*Note: To Tip or not to Tip? It's totally up to you. We asked a few locals who said "If you are happy with your service, tip. If not, you are not obligated." When we did tip, we usually added around 20-30 Turkish liras.
Van Kahvaltı Evi (Beyoğlu) – This was a traditional Turkish breakfast spot about a 20 minute walk away from CVK Bosphorus Hotel. The food was quite delicious and fresh. Be sure to ask them for their in-house fresh baked bread!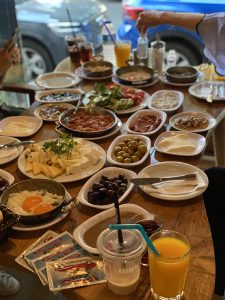 Ciya Sofrasi (Kadıköy)– This wonderful restaurant is located on the Asian side of Istanbul and is popular among the locals. It's the perfect spot for a nice light lunch if you're interested in trying a variety of traditional small plates and dips. They also bake a delicious fresh bread in-house.  And of course, if you want a traditional home-style Turkish meal, they've got that too. This restaurant was also featured on Netflix's Chef's Table…so you know it's good. Check it out here.
Below is a photo of the lunch we had at Ciya…I know it doesn't look fancy…but it was the best mezze we had in Istanbul, hands down!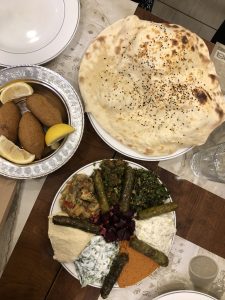 Asuman (Kadıköy) – This became an absolute favorite spot for my friends and I for mid-day sweet treat. They're iced chocolate mocha was by far the BEST mocha we all tried in Istanbul and their chocolatey treats were divine. Their most popular dessert, the "Asuman" (photo below)  was a jar filled with fresh strawberries, sweet crunchy wafers and their delicious melted chocolate. Be sure to take a box home of their pistachio chocolate bars as well!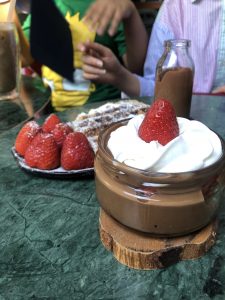 Kronotrop (Beyoğlu/Karaköy)  – We spent many hours at this lovely coffee shop sitting underneath the shade. I loved their iced latte and also often enjoyed one of their refreshing iced teas.
ORİGAMİ (Şişli/Nişantaşı) – Stop by this shop for some fancy croissants! I'm more of a savory kind of gal so I definitely suggest you try their turkey and cheese croissant or one of their options!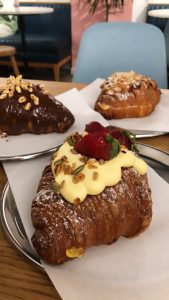 Çeşme Bazlama Kahvaltı (Nişantaşı) – This place is so wonderful and so much fun. Be prepared to stand in line to get in but don't worry, they've got 3-4 locations on the same block to accommodate for all of their guests. At this breakfast spot, there is no official menu. Every table is served the same traditional breakfast in adorable mini plates.
Akinti Burnu Balik (Beşiktaş) – Talk about dinner with a beautiful view. We made a reservation at this restaurant with the help of Ömer at Meza Travel. We had the best table in the restaurant with beautiful views of the Bosphorus. We ordered a whole grilled sea bass for 4 of us and we LOVED it. It was the best fish, like ever.
#Saltbae Burger (Nişantaşı) – We all know of the Nusret restaurants for their infamous slices of steak and sprinkle of salt. This restaurant keeps it very simple: burgers, salads, and baklava. We found ourselves at #Saltbae a number of times on our trip. I always went for the Juicy Burger…and yes, it was quite juicy!
Kebapçı Mahmut (Fatih) – Check out this restaurant for traditional Turkish cuisine.  Heads up! I've found the red meat at most Turkish restaurants to have a stronger lamb/gamey flavor. When visiting traditional restaurants I usually go for the Shish Tawook or other Chicken plates.
Develi (Nişantaşı) – Here's another traditional Turkish cuisine restaurant with solid kabobs and grilled chicken. The mezze plates and salads were also fresh and wonderful. What really stood out to me, however, was the dessert. Definitely order the baklava with ice cream.
Pera Thai (Beyoğlu) – After spending a couple weeks in Turkey, we were all craving something different. We were all super impressed with Pera Thai and loved their spicy crispy chicken, their coconut rice, and their spicy beef plate. The spring rolls were also great. Heads up! The plates here can be very spicy so definitely ask for mild spice if you can't handle the heat! Ask for the hot tea at the end of your meal!
Nusret (Nişantaşı) – The food is great, the vibe is fun and the music is LOUD. Definitely ask to be seated outside for a much more exciting experience. And have your phones ready to record! There are a number of Nusret locations around the city …including in the Grand Bazaar!
Zucca Pizza (Şişli) – I was craving pizza and this restaurant did a truly solid job making Italian style pizzas in a wood fired oven.
CrossFingers (Şişli) – For days when you're missing Popeye's or Chick-Fil-A and want a fried chicken sandwich!
---
Shopping
Grand Bazaar – This is absolutely worth visiting and great for souvenirs…you'll definitely get a kick out of the overwhelming amount of designer inspired products! When shopping the grand bazaar, take the time to shop multiple stores. You'll find that many places have the same product at different prices. For example, we almost purchased tea cups from a vendor …he claimed that he had the best prices in the bazaar. We kept walking only to find the same tea cups for a fraction of the cost!
Fatih Caddesi – I took my aunt to this street to shop for Modest Turkish branded Hijabi-friendly clothing. This street gave me Middle East vibes.
Istinye Park – This mall has all of the high end designers and a few fancy restaurants like Zuma. It's also got a Shake Shack! It's also got Zara and H&M…I've noticed that these stores have similar options to what is available in the states but also includes more modest options in their inventory.
Nisantasi – It's an outdoor shopping area. There are a few luxury brands located here, in addition to shops like Zara. There was one shop in particular that I shopped a few times for beautiful linen Kaftans. It was called Rafine. I also LOVED browsing through a shop called Gizia.
Kanyon – This mall looks so unique as it has more of an outdoor setting. The bottom floor appeared to have lots of cafes and this mall also has a Petra Roasting Co.
Zorlu Center– Another mall with a luxury section and fancy restaurants. They also have a Beyman (department store) and if you're shopping in the summertime, check out their shoe sale!
Mall of Istanbul – I didn't have the opportunity to visit this particular mall, however, my relatives who visited it truly enjoyed it.
Florya Park – This mall appeared to have many popular Turkish brands including Gizia, Baqa and more. I picked up a few modest pieces for my mama here! This mall also blends shopping with entertainment as it has the world's largest thematic aquarium.
---
CAPPADOCIA 
Our group ended up spending 2 nights/3 days in Cappadocia. I truly believe that this is enough time to visit the city and enjoy what it has to offer without feeling like you've been there for too long. Keep in mind that the airport in Kayseri is an hour drive away from Cappadocia/Goreme.
Hotel: Divan Cave House Hotel 
We booked our entire trip to Cappadocia 3 days before we took flight…which meant that we didn't have many options for accommodations. We had definitely wished that we could have stayed at The Sultan Cave Suites because they're the hotel with the most famous terrace for photos…but it's all good, our hotel had a nice terrace with beautiful views as well! Most of the bedrooms in this hotel are built into the caves…it's quite unique and made for a memorable stay! The Divan Cave House Hotel was an overall good stay and they offered good breakfast.
Another thing I should mention is that when we went up to the hotel's terrace to take photos of the hot air balloons there was a fresh breakfast spread set up…but it was actually breakfast for other guests who had reserved it. This meant that the seating around it was specifically for them. The couple who reserved the table and area were so kind and allowed us to sit and take photos. …but not everyone may be that generous!
Note: If you want to go to the Sultan Cave Suites for photos only, we heard that it is open to outside guests. But be prepared for a potential line of guests waiting to take photos.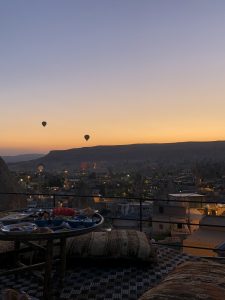 Places to eat in Cappadocia
I'll be honest…we didn't have much luck with food in Cappadocia and mostly survived on french fries. But there was ONE spot that we all loved. It's a chicken sandwich wrap spot called Fat Boys! We all ordered wraps from the stand and then asked to sit at the Fat Boys restaurant where we ordered french fries and sodas.

Hot Air Balloon Ride: Royal Balloon

NOTE: You need at least 2 nights in Cappadocia because sometimes the Hot Air Balloon ride gets canceled due to weather issues. And you'll get your 2nd chance to fly the very next day. 
We were all truly impressed with Royal Balloon's service and the hot air balloon ride experience. When booking your hot air balloon ride, you'll notice that there are two different flight times. One flight time is before sunrise…so you'll watch the sun come up while in air. The second time begins right at sunrise. Because there was no availability, we took the 2nd flight time ride. Thankfully it was beautiful and we were not disappointed. If anything, you get to take plenty of photos and video from the ground as other balloons take off.
If you have a large enough group, I would definitely suggest taking the private hot air balloon ride option. We selected the "Royal King Flight" (8 People). Our pilot, Umit, was wonderful and got us up into the air and back safely on land! Definitely suggest him if you can.
NOTE: I'm someone who's generally afraid of heights but I did alright on this ride! Maybe it's because the basket was quite large and I never looked down! It's a smooth ride and both take off and landing was comfortable.
Royal Balloon is an American Express preferred vendor and this company was really easy to communicate with via email and WhatsApp.
Horseback Riding: Dalton Brothers Horse Ranch  
There are a few companies that offer horseback riding but we selected to go with Dalton Brothers. They offer a 1 hour and 2 hour ride. We chose the 2 hour ride, but we suggest you select the 1 hour ride if you've never been riding before. There were other riding groups led by different companies on the trail…but I noticed that none of the guests were wearing helmets (bad idea, omg so dangerous!).  Dalton supplies helmets …before handing them to us, they were wiping them down with what I hope was disinfecting wipes and they also had disposable mesh/fabric caps for us to wear under the helmet.
I connected with them via their Instagram page @daltonbrothershorseranch but you can also submit a request to reserve a ride through their
website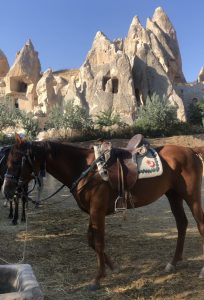 Lake Tuz (Pink Salt Lake)
While a few of us went to do Horseback Riding, part of our group drove another 2 hours out to visit Lake Tuz. You can walk through its shallow waters.  I personally didn't go but heard it was absolutely gorgeous and so surreal. We also learned that the lake is most pink in color during the autumn months. So if you plan to visit Cappadocia in the fall, definitely make time for this surreal and serene lake.