You're probably checking out this recipe because you've got some over-ripe bananas or you know that you're going to have some in a few days 😉 
---
Ingredients:
3 extra-ripe bananas (the more brown they are the better)
1/2 cup vanilla greek yogurt (if you don't have vanilla yogurt, substitute plain greek yogurt)
6 tablespoons unsalted butter (melted)
2 large eggs (room temperature)
2 cups all purpose flour
3/4 cup granulated sugar
1 teaspoon baking soda
1/2 teaspoon salt
1/2 teaspoon vanilla extract or 1 teaspoon if using plain greek yogurt
1/4 teaspoon ground cinnamon (optional)
1/2-3/4 cup crushed walnuts (optional)
1 cup semi-sweet chocolate chips
Other supplies:
Cupcake or muffin tray, or a 9x5inch loaf pan.
---
Preheat oven to 325°F.
Smash bananas using a fork. Stir in melted butter, vanilla yogurt, vanilla and eggs. NOTE: Yogurt makes the bread super moist!
Combine flour, sugar, salt, cinnamon and baking soda in a separate bowl.
Mix dry ingredients into wet ingredients. Add walnuts and chocolate chips and continue to fold until all ingredients are combined.
Transfer batter to a cupcake or muffin tray. You can also bake this into a loaf pan. If using a loaf pan, line with parchment paper.
Bake at 325°F for 25-35 minutes in the cupcake or muffin tray or 45+ minutes if using a loaf pan. I typically prefer using the muffin or cupcake tray because it takes half the time to bake and cool.
Enjoy and devour!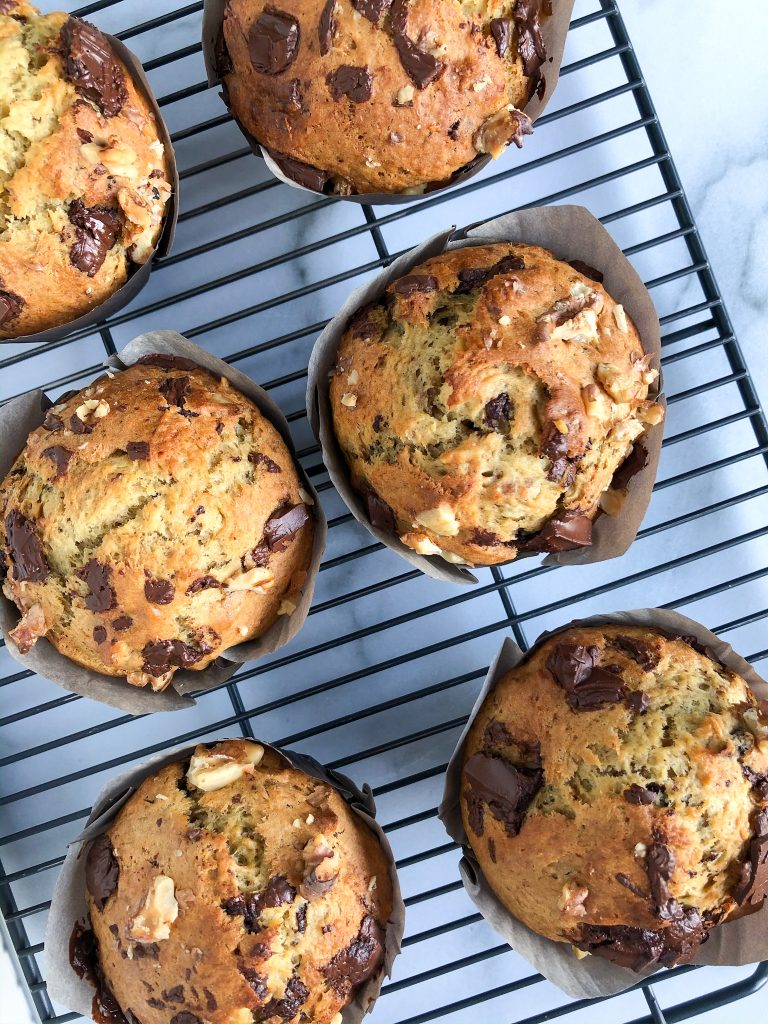 ---